The recent history of the Fishermen's Bastion Restaurant began on 23 September, 2010, when after several years of renovation, it once again opened its doors.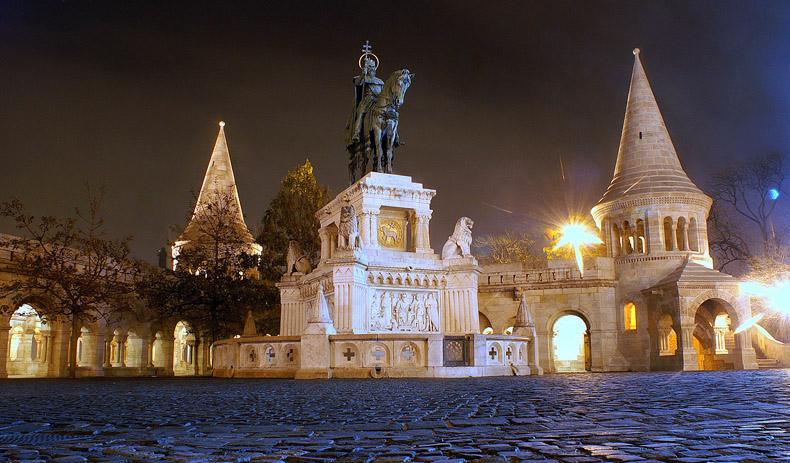 Fishermen's Bastion, as part of the Buda Castle District, has been a World Heritage site since 1987.  Restored according to the original designs of architect Frigyes Schulek, and now outfitted with state-of-the-art gastronomic facilities, the beautifully renovated establishment covers over 1800 square meters and offers patrons an unforgettable experience in a unique setting.
The Fishermen's Bastion Restaurant is open year-round with a variety of services. It offers comfortable seating for 120 people on two floors – each of the tables offer a magnificent view of the acclaimed Budapest panorama. There's also an observation terrace above the restaurant, where restaurant patrons can admire the full view while sipping their drinks.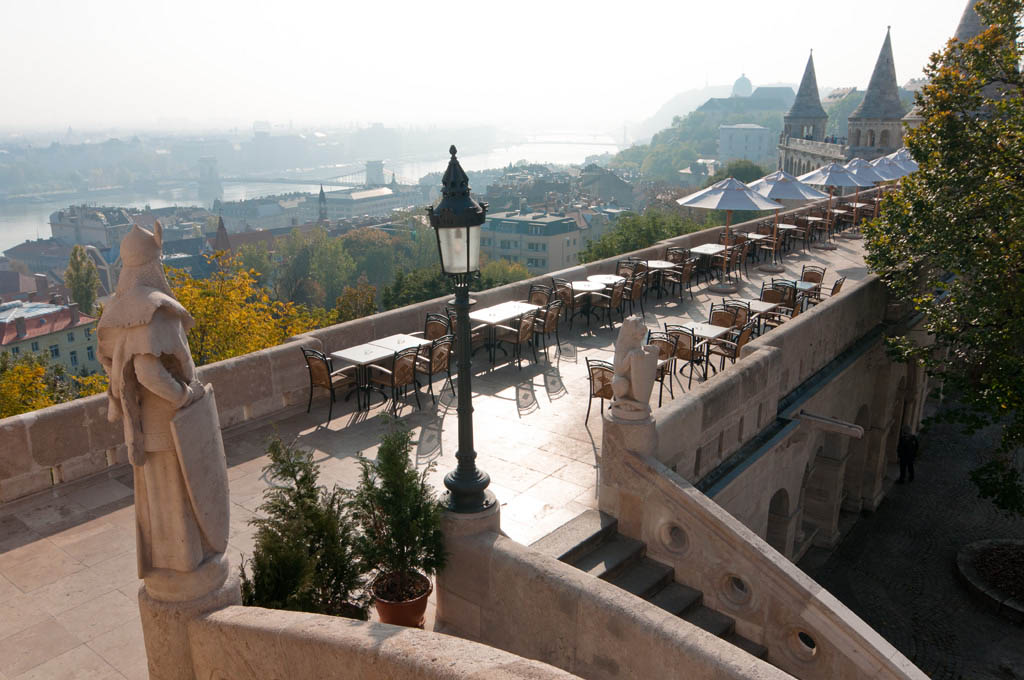 The menu consists of innovative Hungarian dishes, such as Venison goulash with tarragon, Mangalitza spare ribs and Somló sponge cake trifle. Their mission is to revive the most beautiful traditions of Hungarian gastronomy, presenting them in their very own, distinct style. The wine list includes more than 150 types of wine, most of them from the great Hungarian wine regions, along with some excellent foreign wines. Expert sommeliers will help you in choosing the most fitting wine for your dish.
Every afternoon, guests can sit back and relax to the tunes of a Gypsy band playing international and Hungarian favourites. Whether for a full-course meal or just for sipping a glass of wine, the Fisherman's Bastion Restaurant is the place to be.
The Danube Terrace awaits its guests from the end of March until the start of autumn with cold and hot dishes, from 10am to 10pm (depending on the weather). An excellent venue for intimate evening dinners and wine tasting, rounded out by a wonderful panorama of Budapest provides an unforgettable experience for Hungarian and foreign guests alike.  (Adapted from Funzine)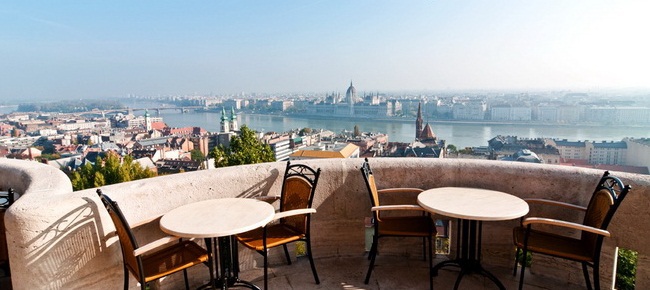 A CIKK SZÓKINCSE:
wine and dine=borozz és étkezz/vacsorázz
World Heritage site=Világörökség helyszín
restored=helyreállítva, renoválva
outfitted=felszerelve, ellátva
state-of-the-art=legkorszerűbb
establishment=létesítmény
to cover=lefed, szétterül valamekkora területen

square meters=négyzetméter
setting=helyszín, környezet
year-round=egész évben
seating=ülőhely
to offer a magnificent view=fenséges látványt nyújt

acclaimed=híres, elismert
observation=kilátó
patrons=vendégek, kuncsaftok
to admire=csodál,gyönyörködik
sipping=szürcsölvén
to consist of=áll valamiből
Venison=szarvashús
tarragon=tárkony
spare ribs=sertésborda
Somló sponge cake trifle=somlói galuska
to revive=életre kelt
in their very own, distinct style=a maga jellegzetes módján elkészítve
to include=tartalmaz
sommelier=borszakértő
the most fitting wine for your dish=az ételedhez leginkább illő bor
to the tunes of=dallamaira, melódiáira
full-course meal=több fogásos vacsora/ebéd
to await=vár
venue=helyszín
wine tasting=borkóstoló
rounded out by=kiegészülve
to provide=nyújt
alike=egyaránt